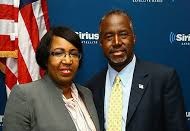 Dr. Carson said: "Arthur Martens
is an excellent realtor to work with.
He not only has an in-depth knowledge
of the job, does comprehensive
and accurate analyses, and is very
thorough in his work, he is thoughtful,
cordial and caring... he goes the extra mile.
We were very impressed with his market awareness
and personal concern about the client's needs."
Mr. & Mrs. Ben Carson, Author, Retired Neurosurgeon, US Secretary of HUD